[ad_1]

Inflation in supermarkets returns with spectacular increases in April. By summer, the increase could reach as much as 5%, according to Iri.
This time there is inflation. While there have been price increases in supermarkets for a few months now, so far they have been limited to a few premium products (pasta, frozen foods, oils, etc.). But in recent weeks, price increases have become widespread and consumers are beginning to feel the difference in their shopping cart.
From 0.58% in February, the rise in consumer prices (food + hygiene) rose to 1.49% in March and almost doubled in April to 2.89% in one year, according to Iri. This is the inflation of demand, ie the average increase in the prices of the products that the customers of the supermarkets actually buy and not only the price readings in the stores. In food alone, the observed increase is even more than 3% (exactly 3.01%).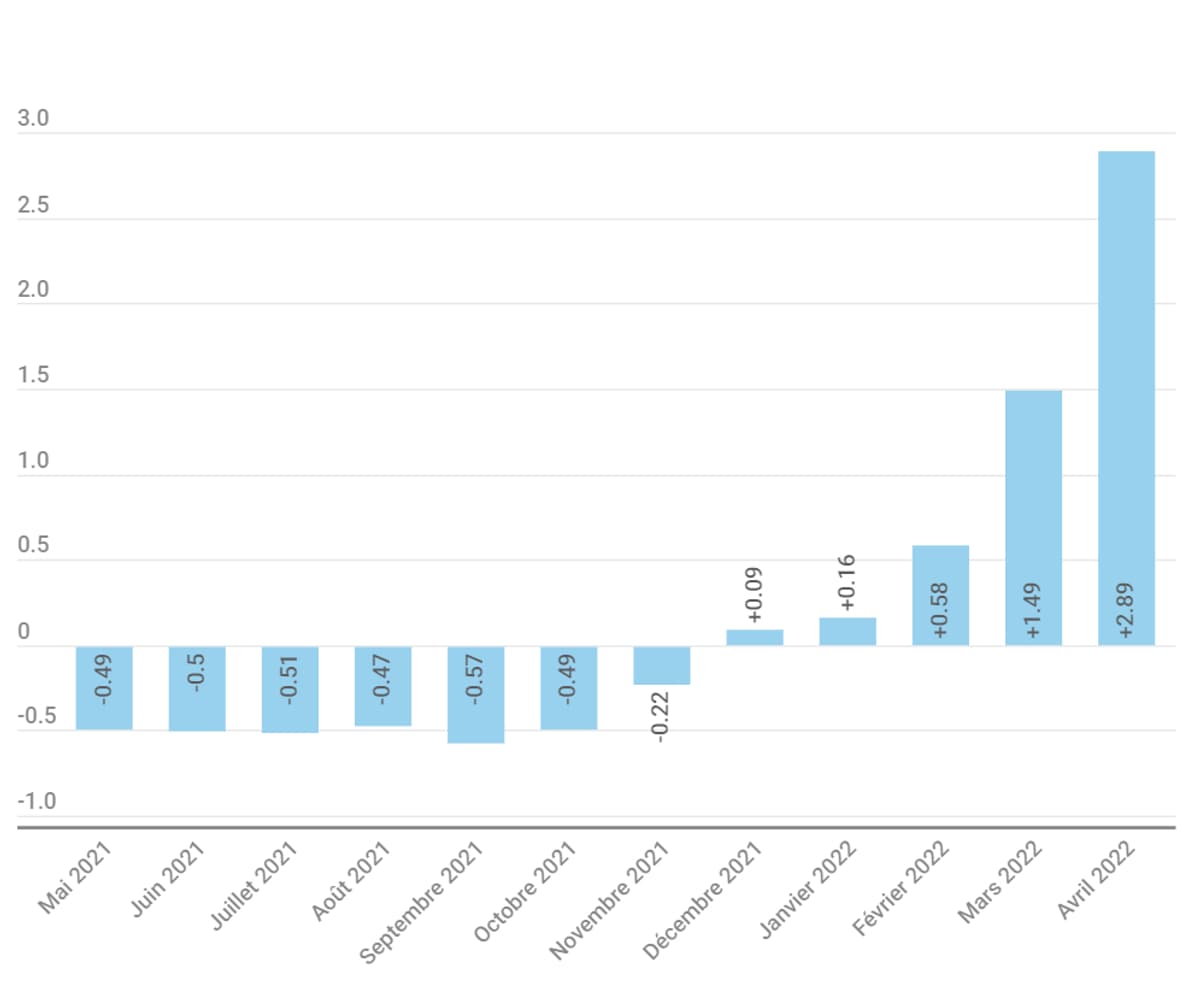 Inflation levels that Eri had not observed for 14 years! We have to go back to mid-2008 to see more than 3% increases in supermarkets. In those years, prices had risen by 4.7% for all products together. From the late 2000s and throughout the 2010s, the trend was likely to stabilize or even deflate, as shown in this chart.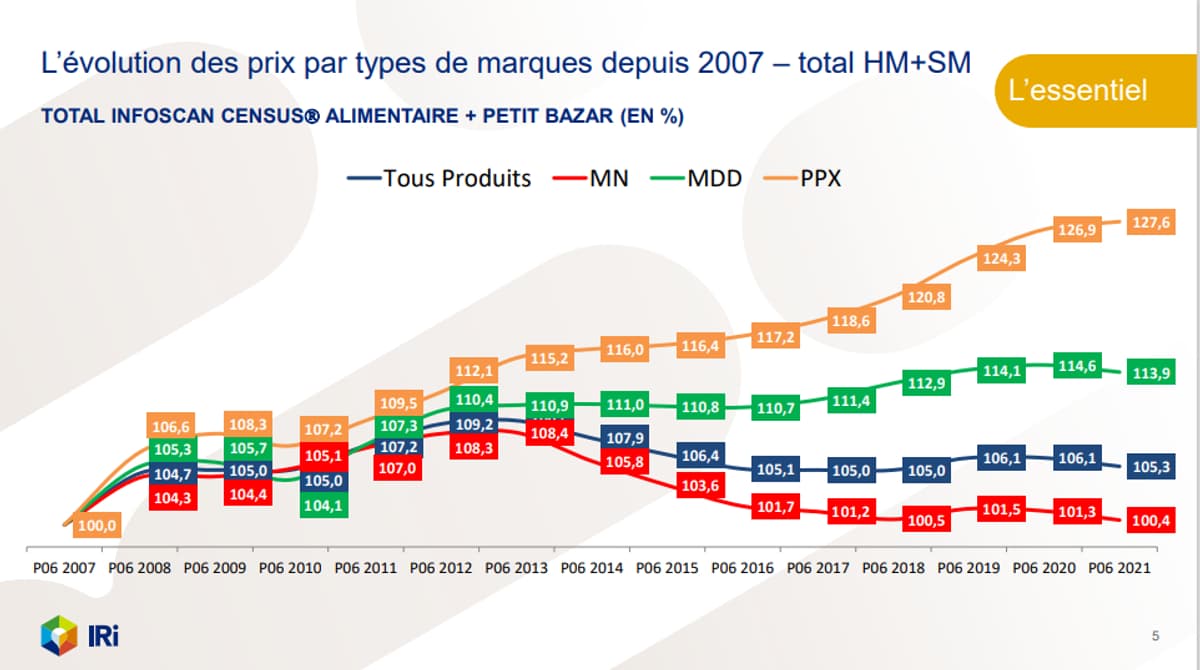 This increase now concerns all departments. The big well-known brands first, which since the end of the trading negotiations have received an average of 2.64%, then the distributor brands with observed inflation of 3.28% and especially the first prices with a jump of 6.6%.
If the increase is greater for the cheaper products, it is because they are non-marketing supported products and the weight of the raw materials is higher in the final price.
The blaze pasta
By type of product, pasta marks the most spectacular increase. + 15.31% on average over a year ahead of frozen meats (+ 11.34%), flours (+ 10.93%), oils (+ 9.98%) and mustards (+9 , 26%).
"Rising prices now affect more than 90% of the categories and reach very high levels in more and more products," said Emily Mayer, IRI's director of business Insight at LSA. 15% in April. Meat, oils and flour now record double-digit inflation. The increase in inflation compared to March is very strong for meat and coffee. Paper categories (napkins, toilet paper, tissues) are in high levels of price increase around + 6%.
An increase in price that should still be increased. Faced with rising raw material costs, manufacturers and distributors reopened a round of negotiations that initially ended in mid-March. The two sides had agreed on an average increase of 3%, but increased pressure on raw materials could lead to an average increase of 5% at the beginning of the summer, Iri predicts.
"The conflict in Ukraine adds significant pressure (price and supply) to the already very tense issues of energy and basic agricultural raw materials for human and animal food (wheat, corn, sunflower, barley, oilseed rape)," Eri said in his monthly note. "The duration and severity of the war in Ukraine will determine the magnitude of inflation and the duration of the episode."
The falling pastis
In this context, some products, however, are surprisingly saved. Products for which distributors agree on price efforts to stand out from the competition. This applies to ham (-1.32% in April), diapers (-1.56%) and especially anise aperitifs (-2.87%).
At the initiative of Leclerc in December, the "Ricard War" now affects all major retailers, who on average offer a liter of pastry for less than 20 euros. An effort made possible by the new Egalim law, which revised its calculation method to increase the resale limit at a loss set at 10%. In the old version, this limit was calculated including consumption rights, the calculation basis is made now before these "taxes" are taken into account. But in spirits, these taxes are very high and represent 12% of the final price of a Ricard bottle.

[ad_2]

Source link